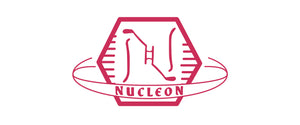 The Story of Nucleon
Here are the details of Nucleon:
Weight: 65.1grams
Material: 7068+SS rings
Diameter: 55.96mm
Width: 43.98mm
Gap width: 4.44mm
Axle: M4*8mm
Bearing: Center Track
Pads: 19.2*14.2*1.2mm
Price: 77.7USD and 80.7USD

The box contains:
1 x yoyo
1 pairs x pads
1 x string
1 x nucleon sticker
1 x yoyofriends sticker


It is yoyofriends' 7th year anniversary! Last year we celebrated our 6th year anniversary with the release of the popular baryon, a quality yoyofriends bimetal at a never before seen price. We are doing the same this year with our newest release, the nucleon. 
The design of the nucleon is based on pure power and stability, instead of our mainstream yoyofriends bimetal that are based on speed and acceleration.
Nucleon is coming in at over 65g with the classic 7068+SS yoyofriends construction, we made a yoyo that can power through just about any combo you throw at and more. We also kept the width below 44mm to keep the yoyo on any plane of your choosing easily. Combining the weight, width and construction, nucleon is undoubtedly our most powerful and stable mainstream bimetal yet. After testing from the yoyofriends players, we found that due to its insane stability, it can hold horizontal combo really well, one of the best yoyo in our lineup.
We named the yoyo nucleon following our particle naming scheme that includes the baryon, tachyon and graviton. Nucleon in chemistry consists of proton and neutron, the 2 heaviest part of an atom. Thus perfectly reflecting the power and the weight of this yoyo in our lineup.
There are 2 versions of logos, first version was designed by Doc, it is a bit complex but with abundant content.We released Nucleon with this logo in Black Friday promotion.The second version logo is designed by yoyofriends' player Tony Sung and revised by yoyofriends, reimagining the nucleon symbol in the shape of a yoyo,Which will be on official release.This is also the first time we try a Yoyo with 2 versions of logo, we think everyone has different preferences.Here we are especially grateful to Doc and Tony who designed the logo for us.
We kept the design fairly simple and made the price of the yoyo 77.7 USD and 80.7USD Perfect price for our 7th year anniversary and never before seen pricing for a 7068+SS full size yoyofriends bimetal. We hope you enjoy this anniversary release and cheers for many, many more years to come.
---