Here at Yoyofriends we constantly challenge ourselves to make yo-yos that are at the technological forefront. We constantly strive to make the most premium and competition ready yo-yos.
YOYOFRIENDS
Yoyofriends started in 2016 as a brand based on fpm, a yoyo manufacturer, fpm wanted to start their own brand with designs that showcase their manufacturing capabilities.

However, making a brand is not as easy as it seems. A yoyo brand needs to find the right players, communication, and connections along with their products. In 2018. Multiple players joined yoyofriends, making yoyofriends a beautiful collaboration of the yoyoers and the manufacturer team. Players are the ones that yoyos the most, and connect with the community. We have a strong player presence, connecting with their respective communities across the globe, directly communicating with the manufacturer team to create the brand.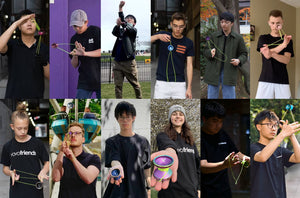 In 2021, the manufacturer team stepped up as well on creating the yoyofriends store. Taking great photos and upping the production quality of both the yoyo and the content. Fresh new colorway ideas, experimental material use that's never seen before in our lineup. Yoyos from yoyofriends are a testament to our manufacturing capabilities and our players. The players give direct feedback down to 0.1g in weight and 0.01 mm in dimensions, making the yoyo as precise as possible.
We also strive for improvements, every yoyo we make we learn something new about yoyo design, thus making better and better yoyos over time. We also upgraded the response pads, string etc to give customers and the players the best possible yoyofriends experience. We will continue to support the yoyo community with this unique team dynamic, and make improvements along the way.