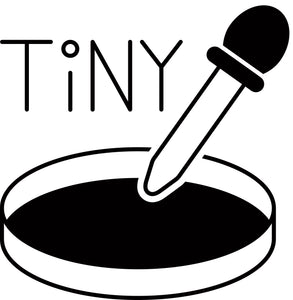 The Story Of TiNY
Here are the details of 
TiNY:
Preorder time window: From 3/25 8PM EST to 3/30 8PM EST.
Quantity:50 pcs in total (preorder only available in yoyofriends store).
Shipping Date:From March 31th to April 3rd.
Official Release Date:Around mid-April (Will available in retail shops and yoyofriends).
TiNY Content:
1 x yoyofriends real leather pocket bag
1x TiNY sticker
1X TiNY package box
1X pairs yoyo pads
1x string
Yoyofriends have a history of making yoyos that utilize titanium, like the TiSS Hummingbird, Ti Sunbird, and recently our collaboration with Damian Puckett on the Alliance. One problem with titanium is the high cost, thus making it less accessible for a lot of people. For this project we want to use different ways to make a titanium yoyo that is fun and economical so a lot more people can have their own titanium yoyo.
To make the yoyo economical, we decided to do a mini undersized yoyo. First draft is based on the Alliance with a diameter of 44.5mm with Koi's inner cup. We also added a groove on the outer rim design for aesthetics.

We want this project truly for the masses, so we contacted Andre from yoyoexpert to collaborate with us on this design as they are one of the most popular yoyo retailers in the world.
We thought of what if we tie some elements of Hummingbird since it is our most successful model, this will make the yoyo more yoyofriends and interesting.
The end result is exciting, the yoyo looks fun and unique.

After 2 months of testing from the yoyofriends players and yoyoexpert, we found out the yoyo needs more power, We need to increase the overall weight of the yoyo. We also realize the yoyo is too wide for its size, causing stability issues.
We decided to optimize the design of the prototype by getting inspiration from the original design. We ended up with 2 prototypes, a 37mm design with straight rims and a 39mm design with more rounded rims. We also increased the weight to 61g. After testing, the 39mm width design is the standout. It is more comfortable to catch, slightly more powerful and it feels more unique with the rounded rim weight distribution.

We also asked Andre from yoyoexpert to give us more insight by testing out the yoyo. Here is the feedback from him. " I really like this yoyo, it has a good feel for a titanium and I like the undersized design. Overall it has very good control and speed for a titanium yoyo. It binds very tight, so perfect gap width. The only thing that could be improved is the fingerspin dimple.I can get it to stick and fingerspin, but it dies very quickly, I think it needs to be a little wider and have a more gradual surface, but I am not sure there is enough room there to fix it without messing up the weight of the yoyo and the need for axle depth."


We implemented the idea and flattened the inner cup with a gradual slope, although the fingerspin is still not ideal due to the surface property of titanium, but it did make it easier to land and spread out the weight distribution more on the outside of the yoyo for more power and stability.

After another testing run , we think it met our expectations on design, shape and width. It felt like a fun tiny competition yoyo, easy to control, bind and full of performance. 

The entire prototype cycle lasted for nearly a year, We want to specially thank Brian from yotricks and Andre from yoyoexpert and the yoyofriends player team for valuable feedback and suggestions on this project. 

Here at yoyofriends we want everyone to have access to a full titanium yoyo and spread the characteristics of titanium and other materials. We hope we achieved that goal with this project. 

The artwork is TiNY being worked on in a lab in a petri dish. It signifies the time this project took and how many tests it has been through till the final production, and of course how tiny the yoyo is.

---
1件のコメント