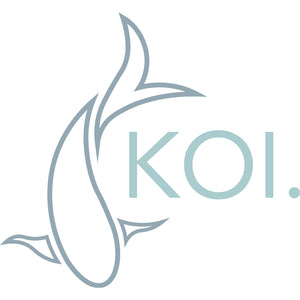 The Story of Stainless KOI
Koi is a mascot for good luck, health, and happiness. Koi is also regarded as a symbol of peace and friendship. It represents the enjoyment of beauty, auspiciousness, and prosperity. This is why we love and chose the name koi.
One of our main goals for yoyofriends in 2022 is to continue to explore, master the design and usage of different types of materials. Establishing a foundation for us for our future releases with more options on materials. After working with titanium, and magnesium, we decided to experiment with a full stainless steel design.
The density of stainless steel is much higher than that of aluminum alloy. If we directly use the diameter of 56mm of AL KOI, it will affect the overall weight distribution, to combat this we first reduced the diameter to 52mm, width to 42mm.
Regarding the hub of the SS Koi, we continue to use the original hub design of AL Koi, to keep that flowy and somewhat speedy characteristic of the original design.
After the first version of prototypes came out, we found that the speed was too slow, and the bind was not great. After repeated discussions, our team decided to change the C bearing to a D bearing, gap width was reduced from 4.7mm to 4.47mm, and the pad seat was changed from 19mm*14mm to 19mm*13mm.
The second version of the prototype came out. Compared with the C bearing prototype, the speed of the D bearing prototype was much better, and the bind is now fixed. 
For Tiss Hummingbird, we used an ultra-thin 0.5mm wall thickness, fully using the advantage of our manufacturer FPM to achieve incredible weight distribution. This time is no different.  The SS Koi also has a wall thickness of only 0.5mm to enhance the rim weight and power of the yoyo. Stainless steel is a very hard material so a wall of only 0.5mm thickness is very hard to manufacture. The machining process is very difficult due to the ease of causing vibrations and deformations. Fortunately, the final product has none of these issues.
The SS KOI engraving is a little different from KOI. SS KOI engraving is focused on lines and is hollow compared to the original.
This yoyo became our first ever D bearing yoyo. The D bearing is smaller than the standard C bearing, increasing the power and spin speed of the yoyo, which solidify the performance of the SS koi and our performance driven culture. SS Koi feels powerful, stable, yet flowy, organic and undersized, perfectly blending performance, fun and speciality.
Finally, We hope you love the SS Koi  and what it stands for!
             The SS KOI will drop Sat, August 20 th 2022 8 PM EST
Here are the details of SS KOI:
Total 35pcs yoyos
Weight: 64.65grams
Material: Stainless Steel
Diameter: 52mm
Width: 42.84mm
Gap width: 4.47mm
Axle: M4*10mm
Bearing: D bearing(1X flat bearing,1X concave bearing)
Pads: 19*13*1.2mm
 Price:149.99USD/ set
Box contains:
1 x yoyo
2 pairs x pads
1 x string
1 x KOI sticker
1 x yoyofriends sticker
1 x white box
1 flat bearing and 1 concave bearing
---